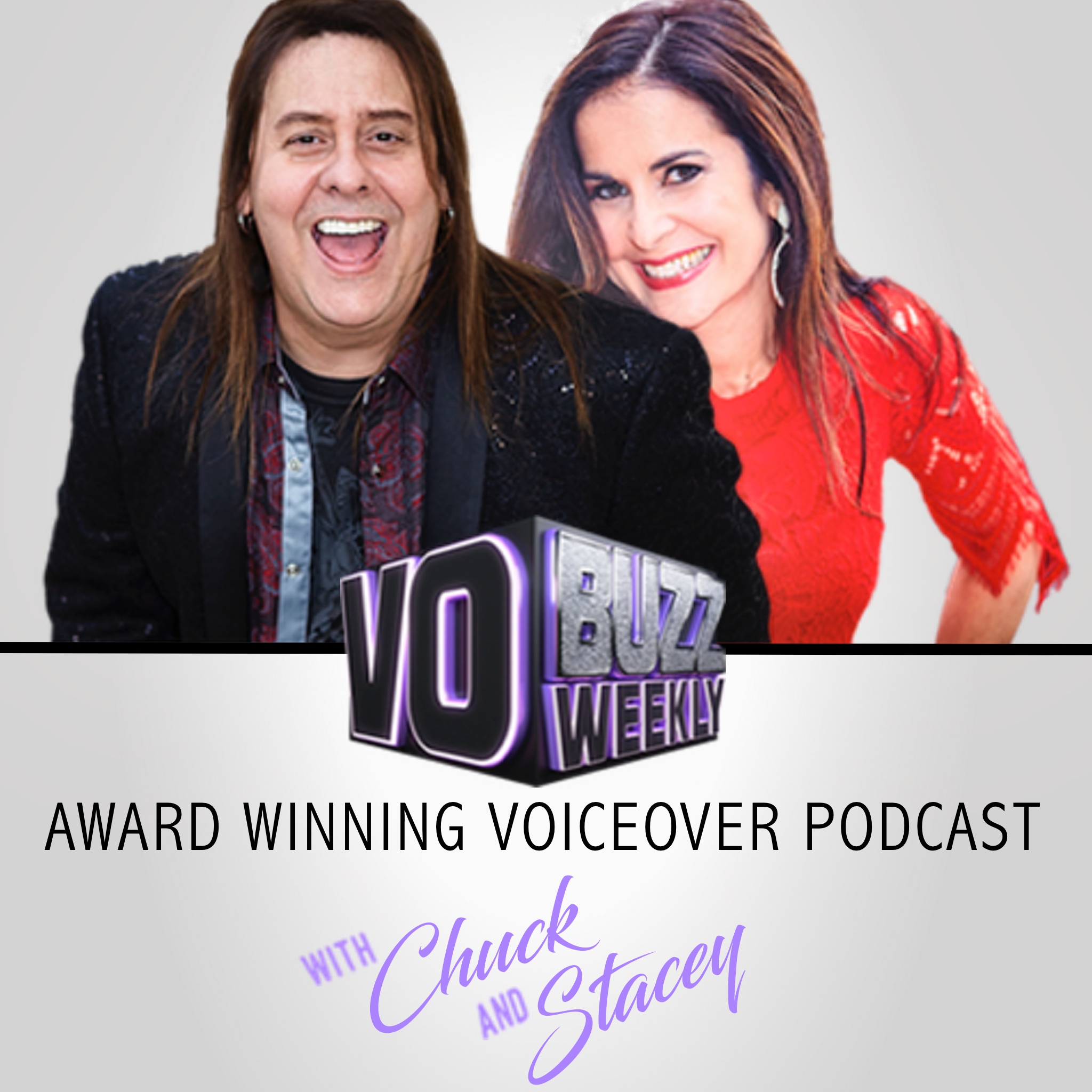 Let the VO Buzz Weekly LIVE celebration begin, presented by DEMOS THAT ROCK and EDGE STUDIO!
Chuck and Stacey marked their epic 200th episode milestone of VO Buzz Weekly in style by filming the show in front of a sold-out crowd at the historic El Portal Theatre in the NoHo Arts District of North Hollywood, CA.
Since starting the show in 2012, Chuck and Stacey have sat down with more than 100 amazing guests and this two-hour show taping brought many of them back to the stage to enlighten and entertain the audience… yet again.
As the show's Emcee, Scott Parkin delivered brilliantly as did Graeme Spicer, Dee Bradley Baker, Jess Harnell, Jim Cummings, Maurice LaMarche, David Goldberg, Jeff Howell, Jodi Gottlieb, Marc Cashman, Nancy Wolfson, Bob Bergen, Charlie Adler, Dave Fennoy, Townsend Coleman, Joan Baker, Pat Fraley, Scott Brick, Rudy Gaskins, Debi Derryberry, Erin Fitzgerald, Kari Wahlgren, Lori Alan, Andrea Romano, Butch Hartman, Ginny McSwain, Mary Lynn Wissner, Beau Weaver, Joe Cipriano, Mark Elliott, Scott Rummell, Bill Farmer, Cam Clarke, James Arnold Taylor, Fred Tatasciore and Jeff Zannini of Celebrity Talent Booking's Twisted Toonz.
It was a truly memorable night that brought together the voiceover industry's best and brightest voice actors, talent agents and managers, teachers, producers, voice directors, writers, casting directors, loyal friends and fans alike from all over the globe.
We are so honored to be a part of this incredible community and offer our heartfelt thanks to all of you amazing people who have supported the show these last four years.
To our incredibly talented and dedicated VO Buzz Weekly crew who work with us all year long and those wonderful people who brought their talents to 200th Live Show, thank you so much, you rock beyond measure!
Thanks to the generosity of all our ongoing show sponsors- Demos That Rock, Entertainer's Secret, Voiceover Essentials, Multiin Tech, Najla's, Neumann Sennheiser, Traditional Medicinals, Vocal Booth To Go and to our LIVE event co-sponsor EDGE Studio and giveaway sponsors- Apogee, Cole Michaels Salon, Kaotica, Najla's Neumann Sennheiser, SOVAS, Vocal Booth To Go and Voiceover Essentials- you're so amazing in every way!
To our loving and supportive friends and family, thank you for going on this wild journey with us… we love you!
Watch more videos and get the latest voiceover news, advice and updates on contests and giveaways at http://vobuzzweekly.com