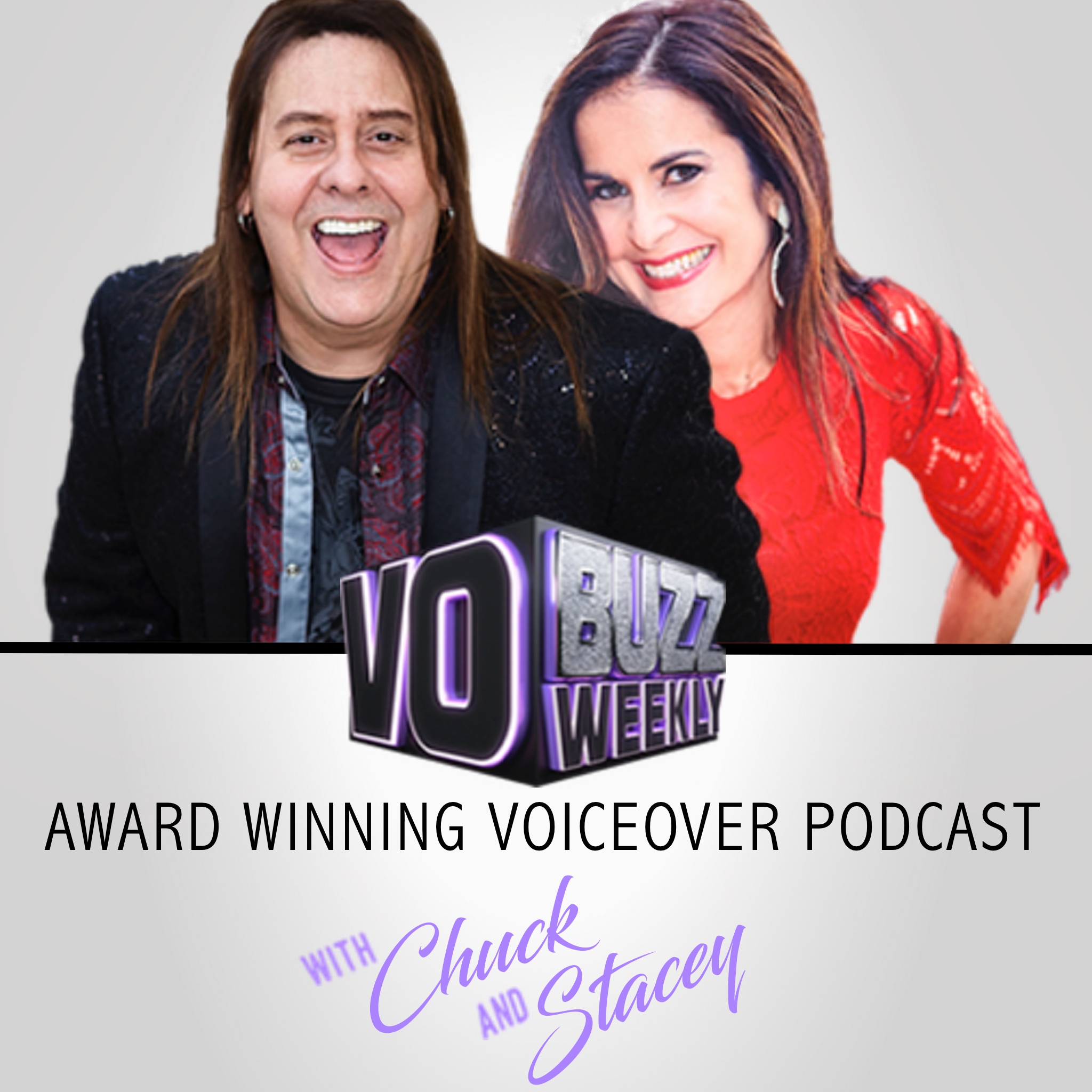 At long last, Chuck and Stacey sit down with bilingual VO superstar and native Angeleno, Sylvia Villagran, known for her versatile work in promos, commercials, trailers, live announce and radio imaging. You hear Sylvia all over network TV and radio in both the General and Spanish markets on The Doctors, Jeopardy, Wheel of Fortune, the Mun2 Network, and live announcing the Critics Choice Awards, the MTV VMA's, the Writers Guild Awards, the 2012 and 2016 Democratic National Conventions and the Latin American Music Awards.
Sylvia shares the story of when her radio colleague, Bob Jeffries, told her about voiceover and helped her get started in the right direction with constructive advice and critiques. Being business savvy, Sylvia always knew that "you don't get a second chance to make a first impression" and reminds people to not make a demo until you are really ready.
After being fired from radio, Sylvia tells about her unlikely on-camera job at Telemundo Channel 52 while working in the Spanish voiceover market, and eventually going back to radio. In 1999, she talks about how everything changed for her with respect to being embraced as a bilingual talent. She describes some major differences between the General and Spanish markets and why working in voiceover allows her to be authentic, be a part of the team and help solve people's problems.
She offers amazing advice to fellow bilingual voice talent who want to crossover from taking lots of different classes to knowing what you could offer to the General market and continually being open to feedback from people you respect. She gives props to demos produced by Chuck and Stacey at Demos That Rock and explains why making her first English demo was very challenging.
She shares her beliefs about pursuing voiceover as a career versus a hobby, why bilingual talent has to work twice as hard and the importance of being ready when the opportunities present themselves. She credits her parents for teaching her about business and what she learned from working in show business at her father's Mexican movie distribution company.
Sylvia reminds people to master what you can like being skilled, easy to direct and collaborative and to not obsess over the things you can't control. She gives her three keys to having success, which are to be nice, have a good work ethic and be talented. She speaks to her success in the world of live announce and tells the story of her first live announce gig at the MTV VMA's Latin America in Miami in 2002.
She discusses the differences between radio, which is more forgiving of mistakes than live announce where you have to be perfect and ready for anything. She tells what she loves about live announce and shares her rituals which include a heating pad and physical preparation to help minimize the stress. Constantly striving to be her best, Sylvia shares why she always listens to her work so she can critique what she likes and how she can improve her performance.
Follow Chuck, Stacey and Sylvia on Twitter @sylviavillagran @vobuzzweekly @staceyjaswad @demosthatrock
Watch more videos and get the latest voiceover news, advice and updates on contests and giveaways at http://vobuzzweekly.com
CONNECT WITH US ON SOCIAL MEDIA
Facebook: http://www.facebook.com/VOBuzzWeekly
Twitter: http://www.twitter.com/VOBuzzWeekly
Instagram: https://instagram.com/vobuzzweekly
Pinterest: http://www.pinterest.com/vobuzzweekly/
VO BUZZ WEEKLY IS SPONSORED BY:
Demos That Rock
http://www.demosthatrock.com
Neumann Sennheiser Microphones USA http://www.neumannusa.com
http://en-us.sennheiser.com
Throat Coat Tea
http://www.traditionalmedicinals.com
Entertainer's Secret
http://www.entertainers-secret.com
Najla's Bodygood Bars
http://najlas.com/index.php/products/...
Stacey J. Aswad
http://www.staceyjaswad.com
Voiceover Essentials
http://voiceoveressentials.com
Voiceover T-Shirts, Hats, Jackets, and MORE!
http://www.vobuzzweekly.com/store.html